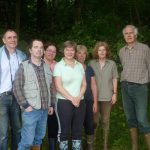 Due to human interference, more and more exotic species are entering our nature. Also in the Sonian Forest, invasive exotic species afflict the native animals and plants.
For this reason, volunteers organised a common campaign day on 29 June against invasive plants. They went into the forest in Ukkel and Terhulpen. In areas where invasive plants have advanced greatly, they pulled out the seedlings by hand and using pitchforks and shovels.
During the campaign day, the volunteers took on two demarcated areas of the forest. Therefore, the work is not finished, so a new campaign day is scheduled for this autumn.
Keep an eye out on www.sonianforest.be for the location and exact date!